Let's Connect Today!
Whether you have questions or are ready to take the next step toward helping your organization
meet its strategic objectives, we'd love to hear from you.
Contact Consensus
We invite you to contact us at any time to learn more about our services, schedule an engagement, and have your questions answered.
Global Headquarters
Consensus
1501 Broadway Suite 1200
New York, NY 10036

+1 212 391 8100
DUNS #140618039
CAGE Code 55CQ6
Download our
Capabilities Statement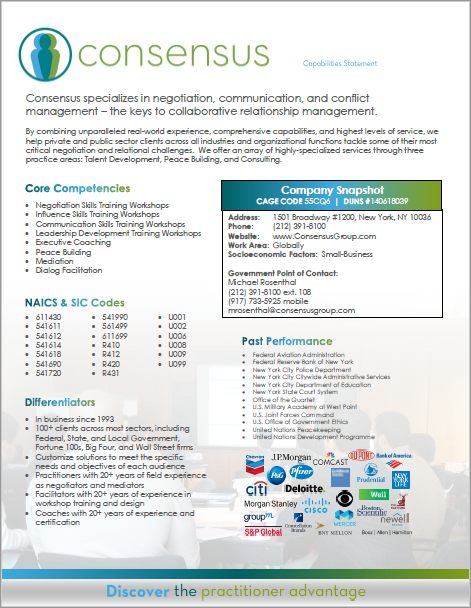 Regional Offices
Atlanta

Berlin
Geneva
Hong Kong
Hyderabad
Jerusalem
San Francisco
Singapore
If you are a member of the media looking for comment or assistance, please contact us by phone or via
press@consensusgroup.com
.
We are conveniently located in the heart of Times Square, New York City, and are accessible by most major forms of transportation:
By Subway:
1-2-3-7-N-Q-R-S-W lines to "Times Square-42nd St" station
A-C-E lines to "42 St/Port Authority Bus Terminal" station
B-D-F-M lines to "42 St/Bryant Park" station
By Train
Metro North to Grand Central – transfer to subway "S" to Times Square-42nd St station
Long Island Railroad to Penn Station – transfer to subway "1-2-3 Uptown" to Times Square-42nd St station
By Bus
Arrive Port Authority Bus Terminal – walk one block east to Seventh Avenue and turn North

The Practitioner Advantage
Each member of the Consensus team has more than fifteen years of field experience, working on behalf of clients as their negotiators and mediators. As practitioners, we routinely test and apply cutting edge strategies and theories as part of our various client situations, ranging from hostage situations to billion-dollar business transactions to political standoffs.
Accordingly, we are highly informed about the strengths inherent to different approaches and frameworks, and how various theoretical concepts would or would not apply to your contexts. Our practitioner experience translates into more concrete advice based on firsthand experience, a true understanding of how theories play out in the real world (and when popular ideas would fall short), and an ability to relate to professionals at all levels of seniority – including members of your C-suite.
Contact Consensus to have any of your questions answered and to discuss which of our customized services would best help you meet your objectives.
+1 (212) 391-8100